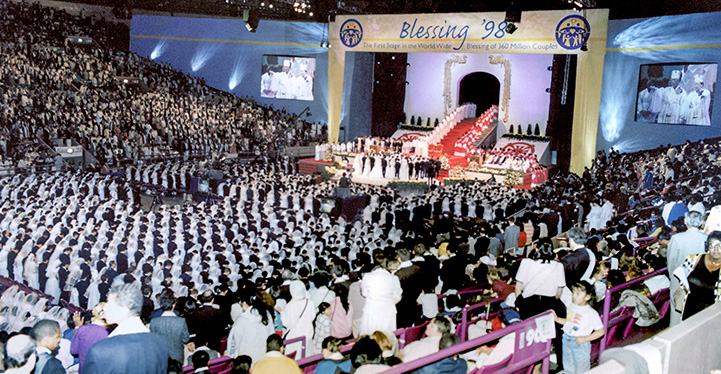 True Parents conducted the 1998 Holy Marriage Blessing of 360 million couples worldwide
True Parents held the Opening Ceremony for the Cheon Jeong Gung
True Father appeared on the cover of Newsweek International
June 14, 1999 True Father presents Special Award to True Mother
Tongil Group employees support North Korean escapees, multicultural families (June 19, 2013)
The 360 Million Couples Holy Marriage Blessing
June 13, 1998
True Parents conducted the Holy Marriage Blessing in 1998 as the first-stage blessing of 360 million couples worldwide. The main venue was Madison Square Garden in New York City, with satellite feeds to 195 countries. More than 500 buses transported participants, including more than 120 ministers—with 14 buses from Chicago alone. The arena rapidly filled with an estimated 20,000 people. Inside the hall, a 2,000-voice ecumenical choir electrified participants with its performance of "Amazing Grace" and the "Hallelujah Chorus." At the main Blessing ceremony, there were 2,824 matched couples, including 65 Unificationist-born couples. Blessing 1998 was distinctive in that it included spirit world blessings. Four Korean women elders were blessed as wives on earth to four major saints of the spirit world. True Parents also extended the "pre-Blessing" to 16 billion spirit world couples. A special group of 34 spirit world couples included some of the greatest saints and worst criminals of history.
Building the Capitol for a Nation of Peace
June 13, 2006
True Parents presided over the Opening Ceremony for the Cheon Jeong Gung Museum on Cheonseong Mountain near Cheongpyeong Lake. Approximately 5,000 people participated in the main ceremony, and another 25,000 people watched the event through screens set up in different areas throughout the Cheongpyeong Heaven and Earth Training Center. Prior to the ceremony, thousands of Unificationists from 147 countries participated in week-long festivities from June 6 to 12.
Unificationists throughout the world contributed funds for the Cheon Jeong Gung's construction. The building itself is a massive structure, its dome some 80 meters high, with 30-ton, 48-meter white granite columns, built into the side of Cheonseong Mountain. Situated midway between Seoul, South Korea, and Pyongyang, North Korea, it was to be the "capitol building" of Cheon Il Guk. True Father delivered a message on the occasion, "Cheon Il Guk Is the Ideal Heavenly Kingdom of Eternal Peace," in which he outlined the "fundamental duties and mission that every citizen of Cheon Il Guk should understand and live by as they walk the way of Heaven."
The Cheon Jeong Gung is home to a museum housing artwork and objects that hold historical importance or express Unification Thought and the ideals of peace. It is seen as a holy place, and many have made pilgrimages there because of its spiritual significance.
June 14, 1976
True Father on cover of Newsweek International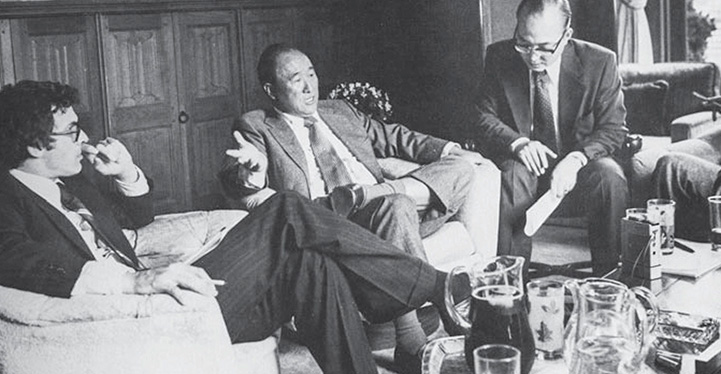 True Father granted an interview to Newsweek International's executive and general editors. Excerpts from their three-hour conversation were published as part of a cover story on the Unification Church.
In the interview, True Father explained the origins of the Unification Church and its mission, saying: "My new revelation has made the Will of God crystal clear. And what is that Will? It is to save the world. So the Unification Church is not another denomination—it's a movement to save the world, and through the teaching of the word of God, each individual in our movement becomes absolutely clear about the concept of the God-centered individual, the God-centered family, the God-centered nation and the
June 14, 1999 True Father presents Special Award to True Mother
True Father presented True Mother with a special award following completion of her World Speaking Tour in which she promoted true family values globally in 80 locations, including 24 speeches in the United States. True Mother spoke on "The Path of Life for All Humankind." The award was also presented on the foundation of True Mother's absolute faith, absolute love and absolute obedience in being "victorious over a suffering course of restoration through indemnity known only to Heaven" and for having "fulfilled the mission of a true child in front of Heaven, a true wife in front of her husband, and the mission of a true parent in front of her children."
Tongil Group Employees Support North Korean Escapees, Multicultural Families
June 19, 2013
On June 19, 2013, Tongil Group staff visited Hope Apparel, a company that helps North Korean escapees adjust to life in the South. Previously Tongil Group employees were donating part of their salaries toward a 2 million won contribution to the company. Hope Apparel, which began in 2009, originally was supported by the Women's Federation for World Peace, which donated funds for the purchase of sewing machines. Thanks to donations from the Tongil Group employees, the initial costs could be covered for a high-cost commercial sewing machine that works holes into buttons for men's clothes. Tongil employees also funded support for the less fortunate. In April 2013, the Cheonghae Multicultural Children's Soccer Club was invited to watch a Seongnam Ilhwa Soccer Match. Tongil subsequently donated 20 million won to the Multicultural Comprehensive Welfare Center to cover the medical costs of multicultural families.
---
This Week in History briefly lists significant events in the history of the Unification Church, the lives of the Founders, and world events that are momentous to Unificationists. Most items are marked according to the solar calendar. Items marked "H.C." correspond to the Cheon-gi or Heavenly Calendar, which is based on the lunar calendar. This instalment covers the week of June 13 to 19.
Adapted from "Building the Capitol for a Nation of Peace: this week in history, June 8-14"; and "The Beginning of God's Hope: this week in history, June 18-24," contributed by Dr. Michael Mickler, Professor of Church History at Unification Theological Seminary at familyfed.org.